Marski by Scandic (Hotel), Helsinki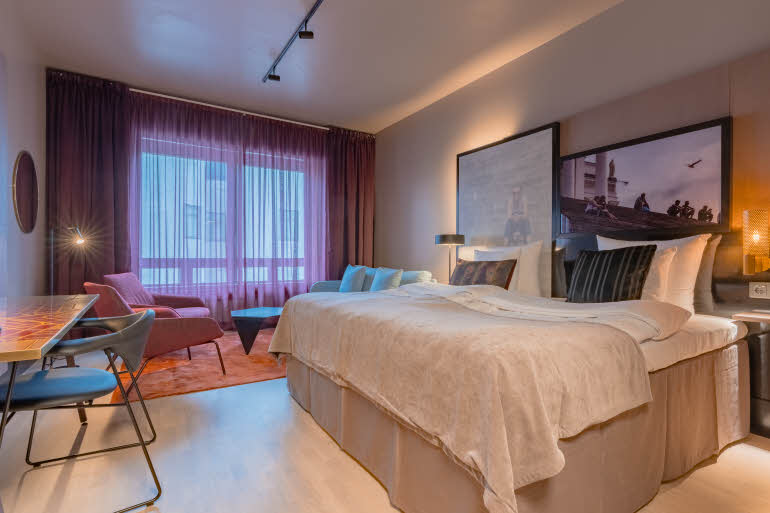 Helsinki, Finland is home to the Marski by Scandic hotel. It is a contemporary and fashionable hotel that provides a convenient stay in the middle of the city. The hotel is housed in the ancient Marski building, which has been modernized to provide a warm environment.
phone number: +358 9 6899880
Marski by Scandic owner
Scandic Hotels Oy is the proprietor of the Marski by Scandic hotel in Helsinki, Finland. One of the biggest hotel chains in the Nordic area, Scandic Hotels Group is made up of Scandic Hotels Oy. The company manages more than 280 hotels in several nations, including Germany, Poland, Belgium, Finland, Sweden, Norway, and Denmark. Stockholm, Sweden serves as the location of the business's headquarters.
How close is Marski by Scandic to downtown Helsinki?
Marski by Scandic is located in the heart of downtown Helsinki, making it an ideal location for travelers who want to explore the city. The hotel is just a short walk away from many of Helsinki's top attractions, including the Esplanade Park, Market Square, and the Helsinki Cathedral. Guests can easily walk to many shops, restaurants, and museums from the hotel, making it a convenient choice for those who want to experience all that Helsinki has to offer.
What star ratings are Marski by Scandic?
In Helsinki, Finland, there is a 4-star hotel called Marski by Scandic. The hotel has several services, including a restaurant, a fitness center, a conference space, and complimentary Wi-Fi.
The rooms
A variety of accommodations are available at Marski by Scandic to accommodate the various wants and needs of their visitors. The accommodations in the rooms, which include free Wi-Fi, a flat-screen TV, air conditioning, and a work desk, are all intended to enhance comfort and convenience. Standard rooms, superior rooms, family rooms, and suites are a few of the room types offered at Marski by Scandic. For customers with specific requirements, the hotel also has accessible rooms. To ensure that visitors have a comfortable stay, all rooms are outfitted with top-notch linen and contemporary décor.
Accommodations at Marski by Scandic
Marski by Scandic offers a range of accommodation options to meet the needs of different travelers. Guests can choose from standard rooms, superior rooms, and suites, all of which are stylishly designed and equipped with modern amenities.
Standard rooms are cozy and comfortable, with options for both single and double occupancy. They feature free Wi-Fi, flat-screen TVs, and workspaces, making them a great option for business travelers or those looking for a convenient place to stay.
Superior rooms offer more space and upgraded amenities, such as a Nespresso coffee machine, bathrobes, and slippers. Some superior rooms also have a balcony or terrace with views of the city.
For those looking for the ultimate luxury experience, the hotel's suites offer separate living and sleeping areas, a dining table, and a spacious bathroom with a bathtub. They also come with access to a private lounge with complimentary drinks and snacks.
Features and Amenities
For its visitors' comfort and enjoyment, Marski by Scandic provides a range of conveniences and amenities. These elements and facilities include, among others:
Restaurant: There is a restaurant in the hotel that serves a variety of dishes all day long.
Fitness facility: The hotel's fully-stocked fitness center is available for use by guests.
Facilities for meetings and events: The hotel provides several meeting and event spaces that can hold both small and big groups.
Complimentary Wi-Fi is available to visitors all across the hotel.
The hotel's front desk is staffed around the clock to help customers with any requirements or requests.
Room service: Guests can use the hotel's room service to request meals and beverages to be delivered to their rooms.
Concierge service: The hotel's concierge service is available to help visitors with suggestions for nearby landmarks, modes of transportation, and other services.
Business center: For visitors who need to work while they are there, the hotel includes a business center with PCs and printing equipment.
Accessible lodging: For visitors with particular requirements, the hotel provides accessible lodging.
These features and facilities make sure that visitors to Marski by Scandic have a convenient and comfortable stay.
Dining at Marski by Scandic
Guests staying at Marski by Scandic have a variety of food options to choose from. The hotel's restaurant, Bistro Manu, specializes in serving contemporary Finnish food made with fresh, regional ingredients. The menu offers a variety of foods, including both domestic and foreign favorites as well as traditional Finnish cuisine.
The hotel also features a café named Café Barack for guests in need of a quick snack. They provide a variety of sandwiches, pastries, coffees, teas, and coffee drinks that are ideal for a quick breakfast or afternoon snack.
As part of its dedication to sustainability, Marski by Scandic purchases a significant portion of its components from regional and organic farmers. In addition, they run a program called "Marski Loves People" that encourages civic engagement and helps local neighborhoods.
Is the hotel pet-friendly?
The Marski by Scandic hotel does allow pets. Pet owners are welcome to stay at the hotel for an extra cost. Pet-friendly guests must notify the hotel in advance so that appropriate preparations may be made for their stay. Dogs must be on a leash or in a carrier when in the hotel's public areas and are not permitted in the restaurant or fitness center. Also, the hotel has the right to charge visitors for any harm that their dogs may cause while they are there.
Is breakfast included in the room rate?
The cost of the reservations made by visitors determines this. At Marski by Scandic, some accommodation prices include breakfast and some do not. To determine if breakfast is offered or not, guests should review the specifics of their reservation. If breakfast is not provided as part of the accommodation cost, customers may still order it for a surcharge from the hotel's restaurant or through room service. A range of selections is available at the breakfast buffet at Marski by Scandic, including hot and cold meals, bread, pastries, cereal, fruit, juice, and coffee.
Attractions and Things to Do:
Guests staying at Marski by Scandic in Helsinki may take advantage of a variety of nearby attractions and activities. Many of the well-liked activities and attractions include:
Visitors to Helsinki must see the Helsinki Cathedral, a famous monument that is within a short stroll from the accommodation.
Market Square: This vibrant market, which is situated on the waterfront, welcomes guests to try and buy a variety of regional cuisines and trinkets.
Esplanade Park is a well-liked place for locals and visitors to unwind and take in the environment. It is situated in the center of Helsinki.
The Ateneum Art Museum houses a sizable collection of 19th- and 20th-century Finnish artwork.
The Suomenlinna Fortress, a UNESCO World Heritage Site off the shore of Helsinki, provides an intriguing look into Finland's military past.
Helsinki's Design District is well-known for its hip stores, art galleries, and eateries that feature Finnish design.
Helsinki Zoo: Home to more than 150 animal species from all over the world, Helsinki Zoo is situated on an island just a short boat trip from the city center.
Helsinki's public saunas include Löyly and Kotiharjun Sauna, which visitors may visit for a genuine Finnish experience.
These are just a handful of the numerous sights and activities that visitors to Helsinki may take in close to Marski by Scandic.
Does Marski by Scandic have a spa?
Marski by Scandic does not have a full-service spa on site. However, the hotel does offer a sauna for guests to relax and unwind after a long day of exploring Helsinki. The sauna is available to guests free of charge and is a great way to relax and rejuvenate during your stay at Marski by Scandic. Additionally, the hotel is located near many spa and wellness centers in Helsinki, so guests can easily book spa treatments off-site if they so choose.